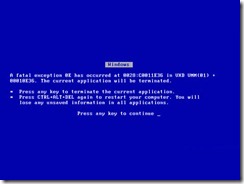 Sometimes called the Windows Bluescreen, the Windows Blue Screen of Death (BSOD) can really be quite scary.  If you are getting a BSOD as soon as Windows loads, or just after you login, then there may be a startup program or service that is causing the problem. This is an issue that haunts us all from time to time. Hopefully after reading this, it will be a little less scary. This post will show you a few methods for combatting a Blue Screen of Death (BSOD). This process will work with either Windows XP, Windows Vista, or in Windows 7.
Clean up Windows Startup Process
Start Windows in safe mode: Turn on the computer, and immediately start pressing the [F8] key every 1 ½ seconds. When the Windows boot menu appears, select either "Safe Mode" or "Start Windows in Safe Mode".
Once Windows is loaded, click on the Start menu and select Run. In the Run field, type: MSCONFIG. This will open the Microsoft Configuration Utility. In the services tab click on the checkbox to show only non-Microsoft services. Uncheck all of the services displayed. In the Startup tab, make note of all of the items listed, then uncheck them all. Click on the OK button, and then choose to reboot the computer.
NOTE: Unchecking all of the services and startup items in MSCONFIG will permanently prevent these items from starting automatically when Windows starts. You can reverse this process afterwards by later going back into MSCONFIG and checking the boxes that were unchecked.
Virus, Malware, and Disk Maintenance can cause a Windows Blue Screen
While you're in safe mode, it is a good idea to run a full scan using any anti-virus and anti-malware software you have. Many times a BSOD (Blue Screen of Death) is caused by spyware, Trojans, or other Malware.
When the scans are completed it is a good idea to do some disk maintenance. At the very least, run a CHKDSK /F on each volume from the command line.
Restore Windows System State to recover from Blue Screen of Death (BSOD)
Windows XP, Vista, and Windows 7 all have the ability to create snapshots of your Windows system state. While this won't recover a lost Word document you accidently deleted, it may help restore Windows to a point in time where it was functioning properly. First start Windows in Safe Mode (see how to do this above). Once in Safe Mode, click on the Start menu >> Accessories >> System Tools >> System Restore. Follow the prompts, and select a date several days before you started having problems.
Reinstall Windows in Repair Install Mode
If all else fails, there is always the option of reinstalling Windows in a repair install mode or by using the Recovery Console. I don't generally recommend this, since it is VERY easy to make a mistake and accidentally replace your installed copy of Windows, applications, and all of your data. It is also very easy to accidentally format your disk, effectively erasing all data on your drive.