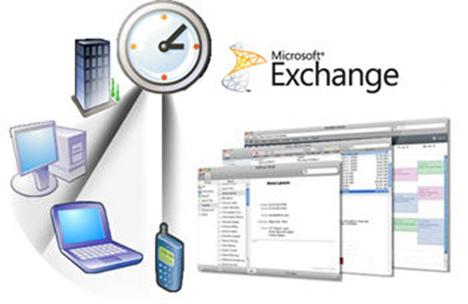 I have been asked many times by customers "What type of email account do I have", and why would I want to upgrade from a POP account to Microsoft Exchange?  Let me explain some of the differences of each technology and the benefits of each.

POP/IMAP accounts are inexpensive and abundantly available.  These accounts are often given away for free (or bundled with) website hosting packages and internet bundles.  For example, Comcast gives its residential customers 7 free POP/IMAP mailboxes with their service.

When using an email client like Outlook or Eudora, email is downloaded from the email server to the local client.  By default, the email messages are then removed from the email server leaving the only copy in the email client.  Any contacts, calendar items, or inbox folders created are generally stored ONLY on the local client software, and not on the email server.  Since data is not stored on the server (with few exceptions to this rule), it is important to backup your email data from your client periodically.

Microsoft Exchange is an enterprise email solution recently made available to individuals and small business via programs such as BPOS and Office 365.  Though Microsoft Exchange is much more expensive than POP/IMAP, there are many benefits to using Exchange.  For one, all data is stored in the Exchange mailbox on the email server.  This means you can use Outlook on several PCs and have access to 100% of your data.  Through the use of ActiveSync your inbox, contacts, and calendar can also be synchronized over the air to many smartphone platforms including iPhone, Android, and Windows Phone devices, sometimes at no additional cost.  Outlook Web Access (OWA) is a web based version of Outlook which provides much of the functionality of the full version of Outlook including advanced features like Out of Office assistant, spell check, and email handling rules (to name just a few).  Since Exchange is an enterprise solution, there are also enterprise level functions available such as the ability to hold mail for litigation, add a disclaimer to all outbound email, archive a copy of all email for retention purposes, and even encrypt outgoing messages for added security.

I tend to recommend the functionality of Exchange to everyone, even consumers.  Since the cost can be prohibitive to consumers I do want to mention that many of the benefits of Exchange can also be provided by the combination of Outlook 2010 and a free Microsoft Hotmail account (using the free Hotmail connector for Outlook 2010).