Microsoft Live Essential Suite 2011 included tools such as Live Messenger, Live Writer, Mail, and Live Mesh.  Microsoft Live Mesh allowed users to synchronize data between different PCs on your network, and even keep up to 5 GB out on the cloud for free.  The big downside to Live Mesh was that you could never increase your 5 GB limit.
Recently Microsoft released their replacement for Live Mesh.  In Windows Essentials 2012, Microsoft includes the new SkyDrive tool.  Unlike Mesh, you do not have the ability to pick and choose which folders to sync, you end up synchronizing your entire SkyDrive.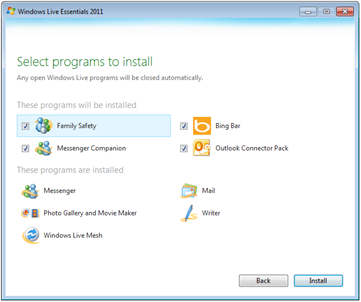 There are, however some added benefits:
View Files Online
Since the SkyDrive application is using normal SkyDrive storage, any file can be viewed online at http://skydrive.live.com. Even if you're trying to open an Excel Spreadsheet on a PC which doesn't have a copy of MS-Office installed, you can still use the Office Web App version of Excel to view and modify the spreadsheet.
Expandable Storage
With Mesh we were always limited to 5 GB of cloud storage.  There was no way to increase this limitation.  With the new SkyDrive utility in Windows Essentials 2012, we are only limited by the limitations of SkyDrive itself.  If you sign up for a SkyDrive account today Microsoft gives you 7 GB of storage for free (or 25 GB if you were an early SkyDrive adopter).  This can be expanded up to 107 GB (125 GB for those early adopters) for only $50 per year.
Add to Libraries
Once you have completed your initial sync using the new SkyDrive application, it is possible to add your SkyDrive folders to Libraries (such as Documents, Pictures, Music, etc..) in Windows 7 and Windows 8.
To add a specific SkyDrive folder to one of your Windows Libraries:
Browse to the folder location using Windows Explorer.
Right-click on the folder, then choose which library you'd like this folder to be included.  In the example shown I've added a folder named SkyDrive Documents to my Documents library.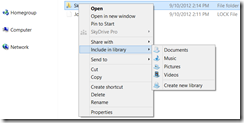 Now when I browse my Documents library from the Start Menu or Explorer, everything in this SkyDrive folder is also displayed.  I can use this method to use my synchronized SkyDrive data as if it were part of my local hard drive.  Whenever I modify and save a document in this folder it is automatically synchronized not only with SkyDrive, but with any other computers which I'm also running the new SkyDrive application.
For more information on the new Windows Essentials 2012 suite, check out Paul Thurrott's post on WinSuperSite.com.  To download Windows Essentials 2012 visit http://windows.microsoft.com/en-US/windows-live/essentials-home.